Always worth a revisit..
After spending many, many guide days on the water I have observed countless styles and attempts to combat the wind. The following are a few tid bits to assist you in windy days on the river.
* Minimise, or better still, eliminate false casting. The mor...
Read Full Post »
It's never too glary to find a few fish, you just have to adapt your strategy.
First up, look for a solid backdrop and then look for a height advantage. As hard as it might be to put into practice just forget about that stuff that you can't see into and put all your focus on the water t...
Read Full Post »
Take a break from the slopes and invest in a day or two fly fishing in the wider Queenstown area with top local guide, Chris Dore.
Now is a perfect time to brush up on your  single hand technique or learn / improve your two handed spey casting skillset.
Check out Chris' winter guided...
Read Full Post »
| | |
| --- | --- |
| Posted by Chris Dore on January 1, 2021 at 3:30 PM | |
I was flattered when in 2019 I recieved an email from Christopher Rownes asking if I would participate in his new project, The Floating Fly - a collaboration of thoughts from some of the sharpest minds in fly fishing around the globe.
https://www.thefloatingfly.com/chris-dore

Read Full Post »
| | |
| --- | --- |
| Posted by Chris Dore on December 1, 2020 at 5:05 PM | |
"What a great investment it is to have the pleasure of fishing with Chris. You will learn so much from him and his passion for this sport - great commentator..!! An absolute privilege to spend the day with in some of the most spectacular country you will see...!! I will be down there again ASAP for more days on the water."
Shaun Bradle...
Read Full Post »
| | |
| --- | --- |
| Posted by Chris Dore on December 1, 2020 at 4:20 PM | |
Welcome to the Manic Guide to Spey, a complete overview of two handed fly fishing without all the BS, presented simply to be easily understood. Enjoy.

| | |
| --- | --- |
| Posted by Chris Dore on October 3, 2020 at 5:45 PM | |
So you're stuck at home and thinking of breaking out as soon as international travel allows. You're pouring over maps and choosing locations to visit and rivers to walk. Heres a tip. Pretty much any river, lake or creek you see here will hold fish at some point of the season... Maybe you're an avid spin angler looking to add another notch to your be...
Read Full Post »
| | |
| --- | --- |
| Posted by Chris Dore on September 26, 2020 at 1:45 PM | |
There's been a lot of discussion of recent surrounding single hand spey techniques, and rightly so. However, roll casting has been around since the beginning of time and if you've been pulling your line into place to facilitate a roll cast delivery then congratulations, you've got it…to some extent.
Over time the tact...
Read Full Post »
One thing I don't get is how much time, effort and patience anglers put into being stealthy over the summer months and how that all goes out the window on winter time waters. These are still the same fish with all the same senses and sure, while the character of many winter rivers may see the fish less affected by a heavy footfall, you will sti...
Read Full Post »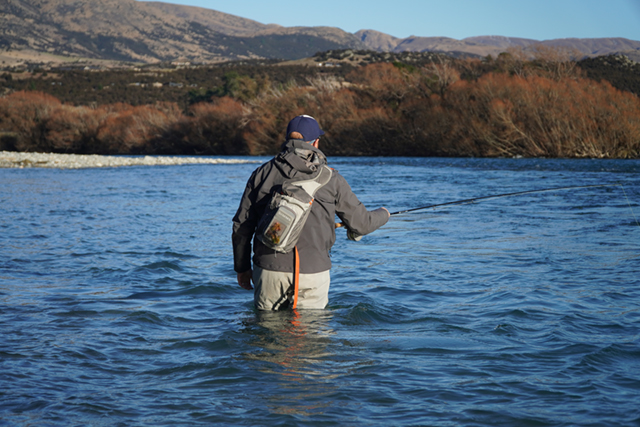 A recent river session with a good mate found us talking about short grabs - those hits to the swung fly that just never seem to convert into hook ups. My feelings were that they can often be turned into a hook up if the angler simply does nothing, and then a little bit of something. Follo...
Read Full Post »